Saturday, December 10, 2016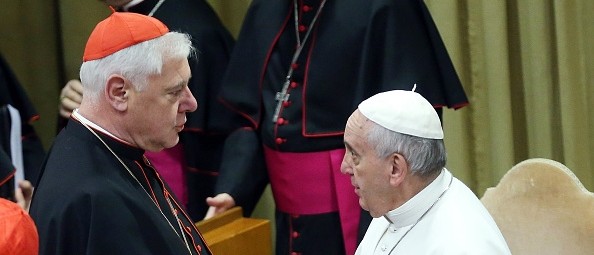 Chiedi queste quattro domande e la casa filosofica e teologica di magistero contemporaneo crollerà.
1.

Dal punto di vista filosofico sul un catecumeno che desidera ricevere il battesimo di acqua, ma muore prima che possa ricevere cio è una caso ipotetico per noi?
La mia risposta è Si. E un caso ipotetico.
Sarebbe ipotetica per noi e nota solo a Dio.
2.Allora se qualcuno dice che questo caso del catecumeno è fisicamente visibile nel 2016 e personalmente noto a noi, allora questo sarebbe un falso ragionamento.? La mia risposta è Si.
E un falso ragionamento. E irrazionale.
3.

Questo viola il Principio di Non Contradizione. Se qualcuno ha detto che questo caso era visibile nei tempi attuali, ed è stato personalmente conosciuto?
La mia risposta Sì.
Non puo che qualcuno invisibile è visible.Non puo dedurre che qualcuno che non esiste c'è sulla terra e conosciuto.Non posso dire assume che qualcuno che non è concreto e tangibile sia de facto e reale nel presente tempo e spazio.
4.

Cosi anche in passato questo caso di un catecumeno e ipotetico per le persone in quel tempo, non era fisicamente visibile e conosciuto in casi personali?
La mia risposta è sì.
Non avrebbe potuto fisicamente visto questo catecumeno salvato, in cielo né in terra.
DUE QUESTIONI
Così qui sono le ultime due domande che dimostrano che cattiva teologia del magistero si basa sulla cattiva filosofia.
1) Conosciamo personalmente i morti ora salvato nell'ignoranza invincibile, una buona coscienza (LG 16), ecc; possiamo vederli, loro sono fisicamente visibile a noi nel 2016?
La mia risposta è che non possiamo vederli. Loro non sono fisicamente visibili e personalmente conosciuto nel nostro tempo e nello spazio.
2
) Dal momento che non conosciamo nessuno di questi casi, nella vita reale, non sono visibili per noi, non ci sono noti eccezioni alla interpretazione literale del dogma
extra ecclesiam nulla salus
o Ad Gentes 7, che dice 'tutti' bisogna 'la fede e il battesimo' per la salvezza?
La mia risposta è che non sono eccezioni al dogma extra ecclesiam nulla salus. Non erano mai eccezioni in passato or presente.Il Magistero a Roma ha fatto un errore nella Lettera del Sant'Uffizio 1949.

-Lionel Andrades
DECEMBER 10, 2016
Posted by

Catholic Mission
at 2:52 PM
No comments:
Links to this post


Friday, December 9, 2016

Two liberal rabbis, Segni and Lara, visited the Pontifical Urbaniana University , and threatened the Rector and Faculty. They were told that they had to give up mission.Every one was made aware of anti-semitism laws enacted by the Jewish Left.
Then Rabbi Segni accompanied by the San Egido political leader and the Rector of the Urbaniana University addressed members of the B'nai Brith, Italy.It reportedly is a Masonic organisation and is supported by the Jewish Anti Defamation League.
Since then the Vatican has decided to do mission along with other Christian communities this is the practical new ecumenism. The doctrinal new ecumenism is based on the baptism of desire being a visible exception to the dogma extra ecclesiam nulla salus.All do not need to be incorporated into the Church as members for salvation said ecclesiastical masonry in the Letter of the Holy Office 1949.
So doctrinally and practically we have a new ecumenism which is not being protested against by the Jewish Left. They are satisfied.
Rabbi Segni has said recently that Pope Francis supports them and is against the 'extremists'.The extremists are Catholics who affirm traditional doctrines of the Church.

1
Sandra Mazzolini a liberal professer of ecclesiology at the Urbaniana Pontifical University Rome is the coordinator of an ecumenical program over 2016-2017 in which Christians from the different churches do mission together.
Sandra Mazzolini has written a book in Italian in which she implies non Catholics are de facto saved with the baptism of desire and being in invincible ignorance. These cases it is implied are known to us in the present times. So she assumes this contradicts the 'rigorist interpretation' of the centuries-old dogma.
She offers a course for students at the Urbaniana where she teaches that the dogma extra eccleisam nulla salus has 'developed'. This claim is made in the Urbaniana University Handbook (Kalendarium).According to the University Handbook she will conduct a seminar on 'The development and interpretation of extra ecclesiam nulla salus (MLT 3005 3 credits Second Semester Lo sviluppo e interpretazione dell 'Extra ecclesiam nulla salus'). There are other courses too which she has been permitted to teach as a lecturer in the department of missiology.
It has 'developed' for her in Vatican Council II as it has for the Urbaniana Rector, since Vatican Council II says non Catholics could be saved in invincible ignorance with a good conscience, by the Word of God( AG 11), in partial communion with the Church.(UR 3) etc.These are all defacto known cases in present the present times( 2016-17) for Mazzolini. So they are explicit exceptions to the need for all to be incorporated into the Church as members.This strange theology was approved by Pope Benedict and Cardinal Kasper.
So the fantasy theoloy, the new theology which she teaches is approved by the two popes and the Jewish Left rabbis associated with the Chief Rabbinate of Israel.
It is the same at other pontifical universities in Rome.
After the visit of the two rabbis the Catholic Church has changed traditional teachings on ecumenism, outside the Church no salvation, Mission,the need for Jews to convert to avoid Hell etc.
-Lionel Andrades
SANDRA MAZZOLINI ECCLESIOLOGY PROF.URBANIANA UNIVERSITY REJECTS CATHOLIC DOGMA AND VATICAN COUNCIL II : EDINBURGH 2010
EDINBURGH 2010 IS CONTRARY TO VATICAN COUNCIL II
h
ttp://eucharistandmission.blogspot.it/2009/12/edinburgh-2010-is-contrary-to-vatican.html
October 13, 2010
SANDRA MAZZOLINI TO TEACH HERESY AT URBANIANA PONTIFICAL UNIVERSITY ROME IN NEW ACADEMIC YEAR
Posted by

Catholic Mission
at 4:22 PM
No comments:
Links to this post